ABOUT RAY AND




ALLSTRESS MANAGEMENT
Allstressmanagement.com Established since 1993 is the place for "Abundance Living", and is the leader for Stress & Pain Management Systems & Business Solutions with the only completely integrated mind and body systems for optimum health and performance. Allstress Management works with you to improve Productivity, Performance & Prosperity with breakthrough innovations and systems by eliminating pain and stress. Results GUARANTEED.
New, integrated systems to give you faster, longer lasting results with Certified: Clinical Hypnotherapy, Advanced Bowen techniques, Remedial massage, Thai Yoga bodywork, fused with Clinical stretching, EFT, NLP   Consultant to 'Fortune 500' executives.
Ray Goslin: DCH; BT, TTM; CRM: MNGH, MAAMT
Founder of Allstressmanagement.com and "Corporate Stress Management Network" on LinkedIn
Creator of "The Lifestyle Project", "The Drift Paradigm", including Drift Meditation, Drift Hypnosis, Drift Stretching and "The Ultimate Stress Management Machine"  Member: "National Guild of Hypnotists (USA)" & Australian Assoc. Massage Therapists (AAMT).
Once upon a time, after suffering back pain for fifteen years, and earlier, discovering my own solutions to a minor but significant health concern, simply by a change in diet, I came to realise the so called experts just didn't know. I realised that I am responsible for my health so decided to start this journey to find better solutions. I first got myself physically fit, but it wasn't enough on its own.
In 1982 I started my meditation practice, (a real game changer) and decided this would be my daily practice for life. To further my personal development, I trained in martial arts, and chose bodywork training in soft tissue modalities which work deeper into the body's systems. Certified in Advanced Bowen Therapy, Remedial Massage and Trad Thai Yoga Bodywork.
My back pain went away. That was twenty years ago. This had a huge effect on my whole life, physically, mentally and emotionally. The insight this gave me was to have a flexible body and flexible mind if you want success.
After years of martial arts training I switched to yoga in 1995 to better align with my work and have added Clinical Hypnotherapy to my qualifications. Fusing this with meridian work, EFT, NLP and have gone on to develop my own systems.

Your information is 100% Site Lock secure and will never be shared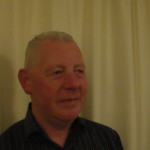 Ray Goslin
DCH, BT, TTM,  CRM, MNGH, MAAMT
It became apparent to me early on that to resolve things you must have integration with the mind and body if you are to be successful. The use of hypnosis or meditation is effective, but it's not enough. Using physical therapy is effective, but again, not enough. As the goal is for rapid results and still be effective, it must be integrated. Regular bodywork & stretching, combined with mental focus through meditative processes, has been the key to me living without pain for over twenty years.
I look forward to sharing this with you now,
Gratefully,
Ray